Optimize Your Property Investment with Better Tenant Screening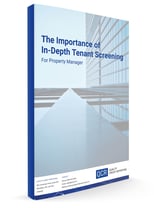 Commercial property management is not without risks, which is why it is so important to take every step possible to mitigate potential issues. One of the best ways to reduce these risks is to ensure you have chosen the best tenant for your listing, at the outset.
In this eBook, you will:
Discover the difference between Investigative Credit Reporting and Database Reports
Learn how in-depth reports can help property managers in various situations, including qualifying prospective tenants, renewal tenants and design build tenants
Uncover key areas of focus, when screening tenants, with our Due Diligence Checklist
Fill out the form and we'll email you a copy right away.